Breton trip and brunch in Saint-Malo
There are many attractions in Brittany and particularly in Saint-Malo. Beaches, remarkable monuments, historical heritage, islands, museums,... pack your suitcase and set off to discover this magnificent city. Among the attractions of the city, brunch is also a must, especially in a hotel with an experienced chef.
Discovering Saint-Malo
Do you feel like getting away from your daily stresses? Why not make Saint-Malo your destination for your next weekend? The city is perfect for sea lovers above all because of its famous fishing and yachting port, but also because of its history, its architectural wonders, its sea air and above all its gastronomic specialities.
Spend your weekend or holiday exploring the most beautiful places to visit around Saint-Malo. Whether you're with your partner, family or friends, Saint-Malo remains a destination of choice for creating unforgettable memories. Stroll along the ramparts of the ancient walled city, walk around the Cathedral of Saint Vincent and past the Porte-Saint-Thomas. For more modern activities, the La Madeleine shopping centre promises to entertain you.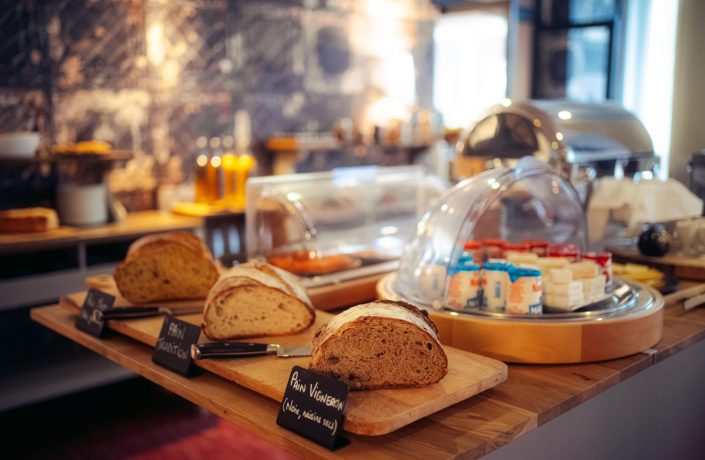 A programme ending with a treat
As you travel around the city of Saint-Malo to discover its every secret, you are certainly hungry. It's time for brunch. Tea, coffee, chocolate, fruit juices, fruit compotes, cold meats, shrimps, etc., everything is on the menu for a delicious end of programme in the company of your loved ones. With a romantic, trendy or family atmosphere, everyone is sure to find something to their liking when visiting Saint-Malo.
Grand Hôtel de Courtoisville: the address for your brunch near the Sillon beach
Located on the seafront, just a few metres from the Sillon beach, the Grand Hôtel & Spa de Courtoisville has a spacious and friendly room, ideal for brunches. Give yourself an excuse to get together with friends or family for a convivial moment in the heart of a 4-star hotel.
The Grand Hôtel & Spa de Courtoisville also features 46 comfortable rooms and 4 spacious aparthotels to ensure a pleasant stay in Saint-Malo. There are many activities you can enjoy during your stay: the hotel also has a Spa that welcomes you for relaxation and well-being sessions. With the expertise of the hotel's professionals, treat yourself to a moment of pure relaxation.
In order to prolong your moment of relaxation, before or after your brunch, come to the pool of the Grand Hôtel & Spa de Courtoisville. More than just a pool, it's a real place to recharge your batteries. The warm water with hydromassage jets is perfect for relaxing all your muscles and relieving your stress. Let yourself go and enjoy your time alone or together in a magical setting. The hotel pool is open daily from 8am to 9pm. This gives you plenty of time to explore the city and swim in the pleasantly warm water, even in winter.
the beaches of Saint Malo
Sea temperature saint malo
saint malo hotel with pool
hotel restaurant saint malo