Hotel Spa in Saint-Malo: a true moment of relaxation and well-being
There are many good reasons to go and be pampered in a Spa hotel in Saint-Malo with your partner or family. In addition to the experience of discovering the historical monuments and the beauty of the city's beach, you can extend your experience at the Grand Hôtel & Spa de Courtoisville in Saint-Malo.
Spa hotel a few steps from the beach of Sillon
Located only 50 metres from the Sillon beach, the Grand Hôtel & Spa de Courtoisville welcomes you in a warm and friendly setting for your stay in Saint-Malo. Relax in a peaceful setting and enjoy quality services to make your stay pleasant in a 4-star hotel worthy of this reputation.
With its 19th century architecture, the hotel is surrounded by greenery that takes you into a calm and soothing atmosphere. The Grand Hôtel & Spa de Courtoisville aims to ensure the well-being of its guests, without exception.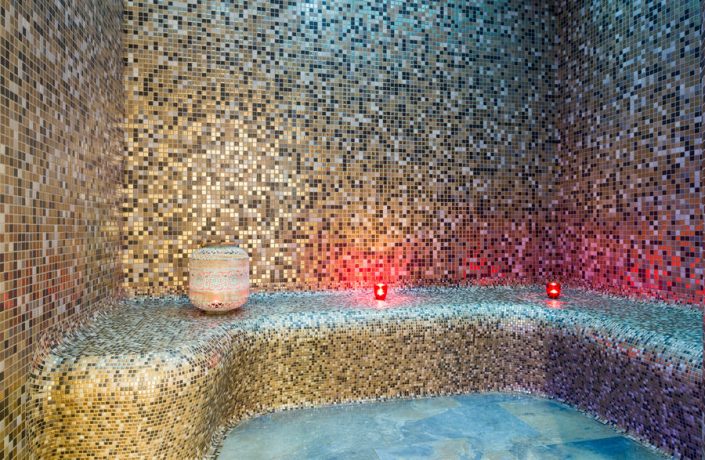 Comfortable accommodation in Saint-Malo
The Grand Hôtel & SPA de Courtoisville features 46 quiet and bright rooms and 4 spacious hotel apartments that are at your disposal during your visit to the city of Saint-Malo. An experienced team will be happy to assist you with discretion, always with the aim of offering you a pleasant and memorable stay.
Each room is equipped with all the essentials: internet connection, bathrobes and towels, television with international channels, safe, hospitality products, etc.
A moment of relaxation at the Spa
The Spa has been known for its virtues and health benefits since its creation. Weightlessness, warmth and massage are the three factors of the success of a Spa, a moment that you can share with your family, but especially with the person you love most in the world.
In addition to being a relaxing experience, the Spa is known to eliminate toxins and improve blood circulation. It also helps to tone the skin while reducing stress. If you've decided to visit Saint-Malo, you're probably looking for a way to escape your daily routine and discover a different story: why not spend your time in the hands of professionals at the Grand Hôtel & Spa de Courtoisville? Every guest is treated in the most comfortable way possible at the Grand Hotel in Saint-Malo.
A gourmet meal after a relaxing day
The Grand Hôtel & SPA de Courtoisville has a friendly and spacious room to prolong your moments of pleasure and relaxation after your Spa session. The dishes concocted by the hotel's Chef Restaurateur highlight local products bought at the market or directly from the local fishery.
After a moment of relaxation in the hands of a professional at the Spa, why not end your day with a gourmet meal? On the other hand, the heated swimming pool with hydromassage jets is always at your disposal.
the beaches of Saint Malo
Sea temperature saint malo
saint malo hotel with pool
hotel restaurant saint malo